EVENTS AT WORKONE INDY AND AROUND MARION COUNTY 
WorkOne Indy's full-service offices are moving! Learn more about the opening of the new location and the timeline for closures of the old offices.
Click the buttons below to view PDF calendars containing workshops, learning events, and more that take place at our full-service  East and West Indy locations . 
Local community-based organizations can request WorkOne Indy to provide a workshop at their location – click to schedule.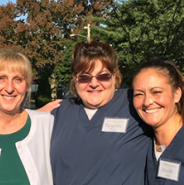 "The experience with WorkOne Indy has been one of the best experiences in my life, with something to show for my efforts. They all saw something in me that I couldn't see in myself." 
MELYNDA, CERTIFIED NURSING ASSISTANT